Bliain Úr faoi shéan is faoi mhaise!
A very happy New Year to you all!
Bliain úr mhaith daoibh uilig, a chairde, ó fhoireann na Bunscoile! A happy New Year to all of our school Community from the staff in Bunscoil Bheanna Boirche! Tá muid ar ais ar scoil arís! We are back to school again!
As you are all aware, Covid infection levels are very high at the minute and this is having an effect on staffing levels in our own school and, in fact, across all schools. We have already, regretfully, had to stagger the restart of one class. We will endeavour to keep any disruptions like this to an absolute minimum during the term ahead. However, our staff are only human and susceptible to the same viruses, winter bugs, etc. that affect the general public. If we again find ourselves severely short staffed with a complete lack of availability of substitute teachers / classroom assistants then we may have to resort to short term remote learning for a class if we cannot provide safe staffing levels.
Some other important notices for January - firstly, regarding admissions:- the online Admissions portal for Naíscoil / Rang 1 applications, for pupils starting in September 2022, will open from Monday 10th - Friday 28th January. Please see further details regarding enrolment on our home page. For pupils in Rang 7 who will be transferring to secondary level this September, the Post Primary Admissions criteria for all secondary level schools will be available on the Education Authority's website from next Wednesday 12th January. (The online portal for applications to Post Primary Schools will open from February 1st-23rd. We will post more relevant information to our R7 parents and pupils closer to this time.)
Secondly, I would like to inform parents of the procedures regarding possible school closures due to severe weather, as there may still be some storms / severe frosts before Spring time.
If severe snow / ice or storms occur on a school morning please assume that the school is open until further notice, which will be posted on our school website and via the messaging service on our school app. Please be mindful that the school office is not staffed until 9 am. Parents are advised to avoid telephoning the school and instead should check the school website and/or school app for any weather related announcements. If travelling conditions are hazardous then please take care yourselves and realize that staff will also be slower to arrive in school as they have to travel from a distance.
In the unlikely event of the school being closed (for example if travelling conditions have prevented several of the staff from arriving in school or if extreme wind or cold has caused damage to the school buildings) then you will be notified as soon as possible (generally this should be before 9 am) via the school app. Therefore, I would strongly urge you all to ensure that you have downloaded the free Schools NI app to your phones or tablets and have chosen County Down, then Bunscoil Bheanna Boirche as your "favourite". This will ensure you receive the most up-to-date notifications from the school. Please also check that you have allowed the notifications for this app on your phone. (This permission can sometimes need renewed, especially after software updates on your phone. To check, click on the app, go back to the choice of BBB as "your favourite school" and tap on the question mark to get to the Help/Support section, then select "restart notifications".)
These procedures are also saved in our "Tuismitheoirí / Parents " section (under "Litreacha Scoile") for reference in the future.
Go raibh maith agaibh, Aingeal
Events in the next 3 days...
Fire Safety Advice at Christmas
Latest Photographs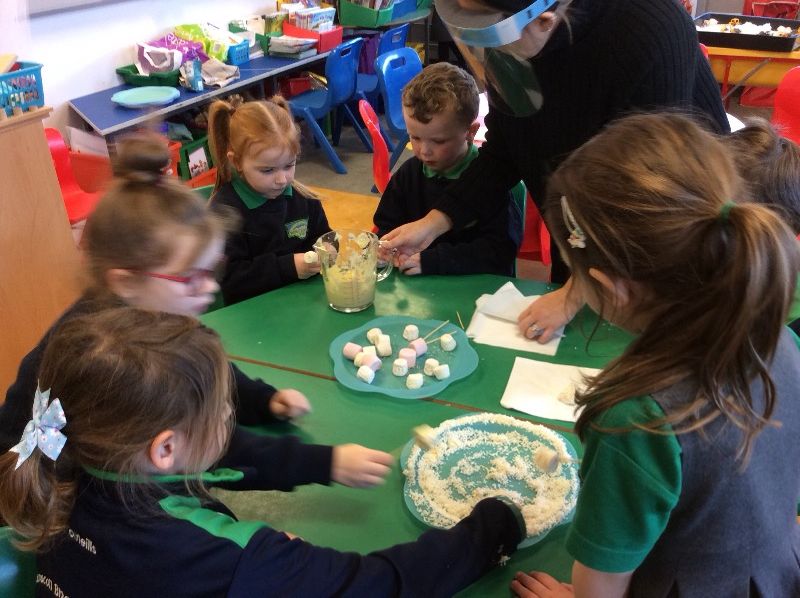 Admissions
Please click on our Virtual Open Day button for further information about our school and how to apply
ICT Excellence Award Winners
/ Buaiteoirí Barr Feabhais TFC
Tá áthas an domhain orainn gur roghnaíodh muid mar an bhunscoil is fearr sna Duaiseanna Barr Feabhais TFC i mbliana!
We are delighted to be chosen as Northern Ireland Schools ICT Excellence Awards primary winner for 2019!
Bunscoil Bheanna Boirche Bunkers Hill, Castlewellan, Co Down BT31 9EB
Phone: 028 4377 1356
Email: info@bunscoilbb.com