Deireadh na bliana /
end of the school year
24/06/2021
A thuismitheoirí agus a chairde / Dear parents and friends,
We have come to the end of another unusual school year. We think that both our pupils and you, their families, have coped admirably with the many unexpected challenges that have arisen. At this time, I would also like to commend all the school staff for their terrific efforts over this past year. There is an African saying that "it takes a village to raise a child" and we very much value and uphold the strong community ethos of our school. The close working between teachers, pupils and parents has been particularly beneficial for all our children during the ups and downs since March 2020.
Of course, it takes more than just teachers to run a school and all our excellent support staff - classroom assistants, secretary, lunch time supervisors, dinner lady - have played essential roles in maintaining the ship as we sailed through stormy waters. Another vital element that I must mention is all the volunteers and donors who have given up their time, expertise or money to support a variety of initiatives this year. This includes those who renovated and built new additions to our Outdoor Learning areas, those who donated PPE equipment, those who care for our school gardens, those who have helped clear out old / broken resources and take them to the dump, those who have fixed small scale plumbing and electrical issues, those who have organised fundraising and, of course, all of you who have donated to raffles, sponsored silences, supported craft fairs, etc. All of your efforts and support are greatly appreciated, a chairde. As I have said before "Ní neart go cur le céile" ("Strength comes through unity").
Unfortunately, this year our wraparound services were unable to function as in previous years due to directives from the Department of Education, which curtailed our Breakfast Club service and prevented us from running any After School Clubs. We know that this added to the difficulties for many of you trying to arrange alternative child care. At the present time we are examining how to restart as much of this service as we can next year, but we must abide by the Department's mandates. Current guidance from DE and the PHA still demands that we adhere to class bubbles. We will, of course, keep you updated with developments on this matter during the summer as soon as we have further news to relate.
As part of our transition process our pupils will be meeting their new teacher today and will find out where their new classroom will be (as there will be some movement of classrooms). Here are the class teachers for next year:-
Naíscoil - Gráinne
Rang 1 - Máire / Mary
Rang 2 - Brenda
Rang 3 - Maeve
Rang 4 - Sinéad
Rang 5 - Aingeal / Gráinne
Rang 6 - Rachel
Rang 7 - Ciarán
This week we also said goodbye to our Rang 7 pupils, who have been exemplary despite all the curve balls thrown at them in their last two years in BBB due to the pandemic. We wish them all our very best wishes in their new secondary schools, where we know they will continue to thrive and flourish! Go n-éirí go geal libh, a chairde!
Finally, I would like to thank you all sincerely for your continued help and support. I wish you good health and hope you all enjoy the summer break.
Míle buíochas ó mo chroí libh! Bainigí sult as an samhradh!
Aingeal
Príomhoide (Principal)
Events in the next 3 days...
Fire Safety Advice at Christmas
Latest Photographs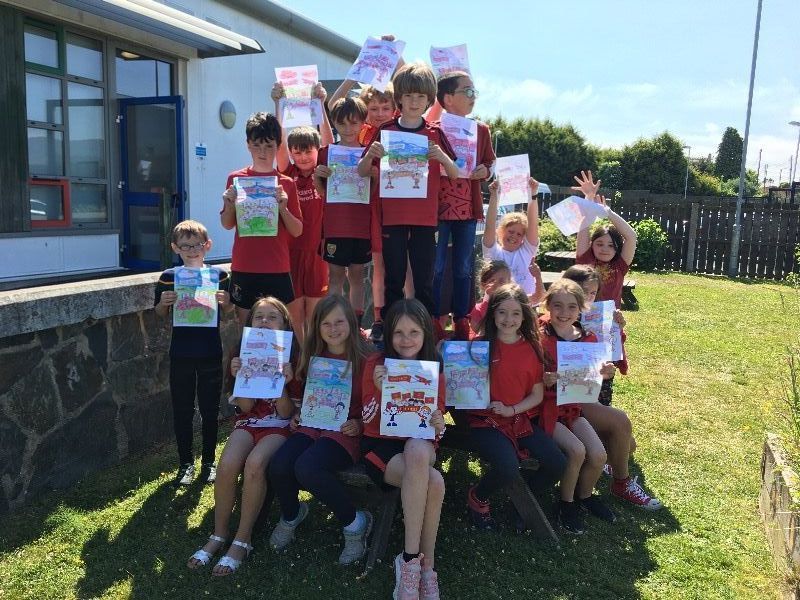 Admissions
Please click on our Virtual Open Day button for further information about our school and how to apply
ICT Excellence Award Winners
/ Buaiteoirí Barr Feabhais TFC
Tá áthas an domhain orainn gur roghnaíodh muid mar an bhunscoil is fearr sna Duaiseanna Barr Feabhais TFC i mbliana!
We are delighted to be chosen as Northern Ireland Schools ICT Excellence Awards primary winner for 2019!
Bunscoil Bheanna Boirche Bunkers Hill, Castlewellan, Co Down BT31 9EB
Phone: 028 4377 1356
Email: info@bunscoilbb.com