Deireadh na Bliana
End of the School Year
A thuismitheoirí agus a chairde,
Tá deireadh na bliana buailte linn!
We have reached the end of another academic year. Unfortunately, this one started off with a lot more promise than how it ended! 2020 has certainly been an unusual and memorable year so far. This year presented many challenges to us all – foremost among them for yourselves was how to manage home schooling, and for us, the school staff, we had to try and discover how best to help you and the children with this endeavour. I would like to express my appreciation and thanks to all the staff for seeing us through this difficult year, but especially our teachers, who worked tirelessly throughout lockdown and also undertook a lot of additional online training to help them provide a greater variety of remote learning experiences to the children.
I must also commend you, the parents and families of our pupils, for your great efforts to engage with home schooling and distance learning in many different ways, sometimes despite poor broadband coverage and technical difficulties. With different family circumstances for everyone we realise it was impossible to keep up with everything that teachers posted online and we tried hard to ensure there was a wide variety of material covered so that parents could pick and choose what might best match their child(ren)'s learning style, whenever they were able to access any of the online platforms that we used. We also communicated directly with many of you via phone calls and emails when you requested assistance. For anyone who wishes to continue using these games and materials they will remain available on our website ("Home Learning / Foghlaim sa Bhaile" section) or on our Google Classrooms all summer. But please don't feel under pressure to continue home schooling throughout the summer - you and your children also need and deserve a break. You have managed to keep your children safe, healthy and happy during a most difficult and strange time and you must give yourselves a lot of credit for that achievement and also give yourselves some well-earned respite.
With regards to the new school year we are still doing our best to plan for this given the ever-changing news and regulations regarding procedures to ensure public safety amidst the continued risk from Covid-19. At this point in time we intend for our Rang 7 pupils to start back on Monday 24th August from 9am – 2pm. The pupils in Rang1 – 6 will begin on Thursday 27th August (times are on our calendar). This is a change to our previously advertised School dates & Holidays list, as this has been dictated by Minister Weir. We intend to take all our pupils back 5 days a week, but the classes will have slightly shorter hours and online learning will still form a necessary part of the curriculum for home works, etc.. To enable this there will be no composite classes next year and all year groups will be taught separately in "bubbles". However, all our plans are relying on further guidance and direction from the Department of Education and could be changed at any point over the summer if the Public Health Authority declares a change in the threat of the virus. Thankfully, we managed to get our new Double Classroom Modular Unit completed just before Christmas, which means we have just enough classroom spaces to carry out this plan. As I communicated to you previously, all our current Naíscoil – Rang 6 pupils will return to their previous teacher and classroom during the initial 2 weeks of school reopening (24 August – 4 September). This will allow the pupils to settle back into a familiar environment and readjust to school life once more before we carry out transition procedures to help ease them into their next class with their next teacher.
Bainigí sult as an samhradh / may I wish you all a lovely summer break. We will see you all again in August when the pupils start back. (Please keep an eye on our website and calendar over the summer. We will also notify you via our school app of any further details or amendments to plans.)
Míle buíochas!
Aingeal
Events in the next 3 days...
Fire Safety Advice at Christmas
Latest Photographs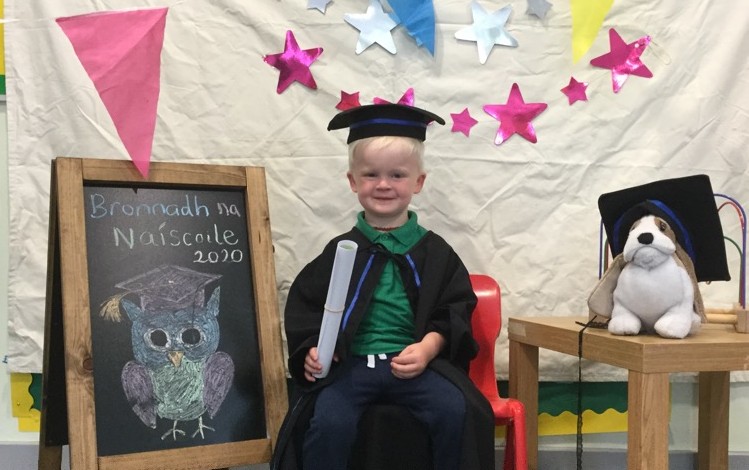 ICT Excellence Award Winners
/ Buaiteoirí Barr Feabhais TFC
Tá áthas an domhain orainn gur roghnaíodh muid mar an bhunscoil is fearr sna Duaiseanna Barr Feabhais TFC i mbliana!
We are delighted to be chosen as Northern Ireland Schools ICT Excellence Awards primary winner for 2019!
Bunscoil Bheanna Boirche Bunkers Hill, Castlewellan, Co Down BT31 9EB
Phone: 028 4377 1356
Email: info@bunscoilbb.com